When it comes to family law, child custody cases are the most complicated matters. That's not only because they may involve complex familial relationships where emotions run high, but also because the outcome of a case can have a considerable impact on the lives and futures of those involved—especially children. As such, courts weigh these matters carefully, take the time to address complex issues, and always place a high emphasis on ensuring the case's resolution is in the best interests of children.
Our Denton and Collin County family law attorneys at Coker, Robb & Cannon, Family Lawyers are passionate about guiding parents—and other eligible parties—through the challenges of child custody and visitation, or "possession and access" as it is called in Texas. Because we know the outcomes produced in these cases have the potential to profoundly impact our clients' lives and their children's, we work zealously to evaluate the unique facts at hand and address any challenges they create.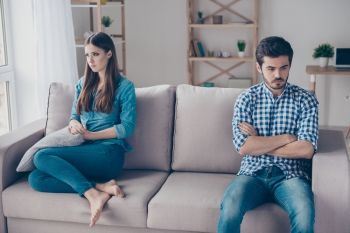 While all child custody cases can be difficult, there are certain circumstances which can make them increasingly complex. Some of these situations include:
Move-Aways/Relocation
Custody cases involving a parent who wants to relocate to another city, state, or country are among the most difficult and contentious cases to handle. These cases generally mean one parent will take the lion's share of time with their child, and the other will have limited opportunities to be physically involved in their child's life.
Resolving these cases demands careful evaluation of many factors, including the distance of the parental relocation, as is it the policy of Texas courts to assure children have frequent and continuing contact with parents who act in their best interests. Short moves can present challenges when it comes to a parent's involvement in day-to-day activities with children. Those challenges are nowhere near as extensive as those involving relocation to cities or states that may be hours away, or even a move to another country! These challenges are often due to Texas courts commonly imposing geographic restrictions—technically on the children's residence—to keep parents near their children.
When seeking relocation outside of a typical geographic restriction (i.e. the same county or a bordering county with a non-primary parent), courts are tasked with considering the disruption a move-away creates between children and their parents. Other considered factors are the available support systems (extended family), whether a parent is regularly exercising visitation rights, currently available job promotion(s), educational opportunities, and whether meaningful access can still be had through special holiday schedules and/or video conferencing, among others.
Because of these factors and the uncertainty of an outcome in the courtroom, it is often preferred that parents work together to devise agreements regarding custody and visitation rights that outline reasonable timesharing when a child relocates.
If the Court is forced to decide whether a child is allowed to move beyond the ordered geographic restriction, the Could can order this to happen on a temporary basis only when there is a showing that the child's circumstances would significantly impair her physical health or emotional well-being without such move. At a final hearing, there are no such restrictions and the Court may allow the relocation to occur solely when it is slightly more in the child's best interest than not.
It is crucial to hire legal representation to help avoid a potentially life-changing result, especially in those cases where there is bad faith by one parent to exclude the other from a child's life or to control the other parent's life.
Domestic Violence and Neglect
Domestic violence and abuse are always be a top concern for courts considering custody arrangements.
When allegations of abuse, neglect, or violence are made, or when protective orders are issued, courts will pay close attention to whether a proposed or existing custody or visitation schedule presents dangers to children. Parents will need to provide extensive supporting evidence to back their claims, either as alleged victims or the accused, to get the Court as much information as possible to make the appropriate decisions.
When either parent has shown other conduct that is not in the child's best interests, including substance abuse, criminal activity, abuse, or neglect in any form; that parent could face uphill battles in obtaining custody and parenting time. Experienced lawyers can address this issue and explore options for most optimum outcome possible that is also in a child's best interests.
Temporary Orders (and Violations)
Because divorce and child custody cases can take months or even years to resolve, courts may establish temporary orders that address issues such as conservatorship, possession and access, and support. These temporary orders are valid until a final settlement agreement is reached, alternative temporary orders are obtained, or a final judgment is rendered at trial – and they must be adhered to by both parties for the duration they are in effect.
Violations of temporary custody or parenting time arrangements can create substantial challenges in securing a preferred permanent arrangement, and cause further legal recourse for the "wronged" parent.
Disabilities
Children with mental or physical disabilities have increased needs when it comes to their growth and development. This includes added costs for medical care, assistance, special education, or alternatve accommodations. While there is the possibility of one receiving a higher amount of child support or some forms of state assistance to assist with the care of a disabled child, these are not guaranteed.
Accordingly, these custody cases require parents to show they have both the willingness and means to provide and care for children who may have unique needs based on illnesses, mental disabilities, or physical impairment. The living situations of parents and their support system will be carefully evaluated to ensure their suitability and to ensure their arrangements are in the best interest of the child.
Dispute and Disagreement
As with any family law matter, the ability of bothparties to communicate, compromise, and negotiate effectively and amicably plays a central role in the trajectory of a case; and its outcome. This is more true of child custody issues, where parents can work together to come to an agreement on conservatorship, possession, access, support, and more issues that arise from being a parent. Although out-of-court resolutions are favored by the Court—and the wallets of both parties--there are times when disputes and disagreements arise.
When kept civil, such disagreements can be worked through with the help of attorneys capable of crafting creative solutions during negotiations or protecting a parent's rights and interests at trial. In some cases, disputes can compromise one's goals when it comes to custody, possession, and access, especially when disagreements become emotionally charged and can be easily documented. Arguments, unsavory behaviors, and other actions akin to heated disagreements can negatively impact how the court views either party in the case.
Those are just a few common examples of circumstances that can complicate custody proceedings and they show why it becomes critically important for parents to work with experienced lawyers when addressing the most challenging issues. By drawing from our extensive experience and professional connections with experts who can provide their opinions regarding the suitability of parents and living situations in regard to a child's unique needs, our legal team works to protect our clients' rights as parents. Additionally, we leverage our insight to address matters of court-ordered investigations and custody evaluations. We have the breadth of knowledge to address these issues as they arise during family-related cases, and through various alternative means of resolution.
Discuss Your Case During an Initial Consultation
At Coker, Robb & Cannon, Family Lawyers, our family law attorneys have served families throughout Texas since 1998, and have cultivated the insight and resources clients need when addressing some of the most critical issues in their lives. Backed by the expertise of Specialists Board Certified in Family Law by the Texas Board of Legal Specialization (Duane L. Coker, Kelly K. E. Robb, and Jacqueline Cannon) and an entire team with real Texas heart, we have the tools to guide clients through even the most challenging issues – and to protect their rights, interests, and futures every step of the way.
If you wish to discuss a child custody matter, or any divorce or family law case, we invite you to call (940) 293-2313 for an initial consultation. We serve clients throughout Collin County, Denton County, and beyond.