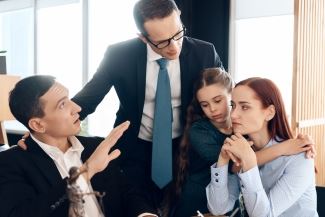 Divorce is not a light decision, nor is it an inconsequential endeavor. As a legal process that addresses numerous issues which become entwined between two spouses and which produces an outcome that can significantly impact one's future, divorce is a matter that demands attention, informed decisions, and the assistance of experienced attorneys who can help navigate what are often unfamiliar and legally complex processes.
In a previous blog post, we discussed a few helpful tips for those navigating the attorney selection and divorce process. Those tips, such as setting realistic expectations and knowing what your case entails, are important for ensuring you make the most out of any attorney-client relationship. Interviewing your lawyer is a critical part of the attorney-selection process and one that should be further explored.
Asking the Right Questions
Because the attorney you choose to handle your divorce can make the difference in your legal journey and the eventual outcome of your case, doing your due diligence to ensure any prospective lawyer is capable of addressing your needs is important. Aside from evaluating their experience, accolades, and other similar factors, you should also make it a point to speak personally with any potential lawyer. When you do, asking the right questions is key.
Below are a few important lines of questioning you should be focusing on when speaking to any potential divorce and family law attorney:
1.Ask about specific practice areas – When you are considering a divorce or are ready to start the process, you need to determine whether or not the lawyer you choose focuses in that area of law. There are countless areas of law, which may mean some firms and attorneys practice in a singular area of the law or diversify their expertise by practicing in multiple areas. Even attorneys who advertise for divorce services may not have the depth of experience others might, especially if they split their focus across multiple practice areas. Inquiring about specific practice areas is a good way to get a grasp on the type of experience an attorney has in issues similar to those you are currently facing. Additionally, learning about any special certifications the firm's lawyers may have will further illuminate the extent of the firm's focus on one particular area of law. For example, at Coker, Robb & Cannon, Family Lawyers we focus exclusively on matters related to divorce and family law, which allows us to address a range of issues involved in these types of cases, including the most challenging ones. Our team also has the unique distinction of having three Board Certified Family Law Specialists by the Texas Board of Legal Specialization (Duane L. Coker, Kelly K. E. Robb, and Jacqueline Cannon), a designation earned by lawyers who prove their expertise in a particular field, and which is held by a very small percentage of practicing attorneys in the state.
2.Ask about communication – Communication is critical in any relationship in which you pay for services; and especially so in one as personal, meaningful, and important to your future as your divorce is. Communication is also critical to ensuring you make informed decisions, know what to expect, and understand unfamiliar legal concepts. Don't expect that any attorney you choose will be good at communication. Like any business or service provider, some attorneys treat clients more like numbers than people. To get a grasp on this aspect of a lawyer's service, ask how communication is handled by the lawyer and their firm, including when and how frequently lawyers communicate with you, whether they are accessible when you have questions or concerns, and whether you get to speak directly to a lawyer or if communication is predominately handled through paralegals or other support staff. Remember, communication is very much a two-way street in divorce cases, as it facilitates your attorney's ability to address the unique issues you face and better protect your interests, and ensures you have the opportunity to provide your input and discuss the issues important to you.
Talk about options for resolution – Remember, the ultimate goal of working with an attorney during your divorce is to resolve your divorce matter. With that focus in mind, you should be vocal about asking a prospective attorney about possible options you may have to resolve your case. Because not every case is the same, you may have certain options to explore, or certain options that don't seem likely – at least initially from the prospective of an attorney. A good lawyer can discuss potential issues that could arise and complicate your journey, and figure out the best ways to avoid them as well as propose various options for negotiation, litigation, or alternative dispute resolutions such as mediation or collaborative divorce. As you ask about these options and how they generally work in divorce cases, be sure to also ask about a lawyer's experience with various approaches and strategies. This can help you gain a better understanding of the scope of their experience, and whether they and their firm have the ability to provide comprehensive representation to address a range of matters, including the ones you might not personally foresee.
Ask about a lawyer's record, good and bad – It is a good idea to discuss an attorney's record of achievement, which you may be able to glean from viewing their website. After all, awards, honors, special distinctions, and client reviews earned by an attorney and their firm can provide some indication into their quality of work, experience, and the respect they have earned. However, don't forget to ask a potential lawyer about any disciplinary action they may have faced from the local or state bar. You have a right to know this, and to use the information you gather in your decision making process.
Ask about fees – You should not be hesitant to discuss costs and fees. This means not only posing straight-forward questions about fees and how client funds are handled, but also discussions about ways your prospective attorney can help you manage and control costs. An experienced lawyer should be open to discussing what they typically see as far as costs and your unique issues, as well as options for controlling those costs through avoiding litigation when possible, and negotiating agreements out of the courtroom. Be cognizant of what your case entails, have realistic expectations, and understand what services and level of support you get for your payment. Remember, just because lawyers may advertise their services as inexpensive doesn't mean they provide the same level of support provided by other lawyers who may charge more. Cutting costs in the short-term could very well cost you in the long-run.
Due diligence in the attorney selection process for many often means online research, but information about an attorney's background and qualifications on the web may not help you understand whether he or she is truly the most qualified attorney to handle your unique case or secure the most positive resolution possible. As such, make attorney interviews a priority when you are considering a divorce attorney, and be sure to ask the right questions to get the answers you need.
Speak with our Divorce Team at Coker, Robb & Cannon, Family Lawyers!
At Coker, Robb & Cannon, Family Lawyers, we've assembled a team of top-rated attorneys, paralegals, and support staff who genuinely value our clients and are passionate about providing the personalized service and support they deserve. As a locally forged law firm with real Texas heart and values, we know clients deserve honest, qualified, and communicative support during what can often be difficult and emotionally turbulent times. Not only do we believe close working attorney-client relationships are what the men and women we represent deserve, we also know their productive value in helping us pursue the strategies and outcomes tailored specifically to the unique issues they face.
If you have questions about our firm, attorneys, and the family law services we provide, we encourage you to reach out to us to learn more. Voice your questions and concerns, and learn how we can help you address them. Call (940) 566-6649 or contact us online to request an initial consultation. We proudly serve clients throughout Denton County, Collin County, and the surrounding areas of Texas.