Toya Brown, a paralegal in our Denton office, is celebrating her 5th anniversary with Coker, Robb & Cannon, Family Lawyers this year! Without a doubt, her dedication along with her infectious smile and cheery demeanor are among the many things our clients and all of us at Coker, Robb & Cannon, Family Lawyers love about her.
Toya has been a paralegal at Coker, Robb & Cannon, Family Lawyers's Denton office her entire tenure and works mostly with attorney Marci Martinez, but also provides support to Mike Youngberg and Duane Coker. She is also involved with Simple Texas Divorce cases as well.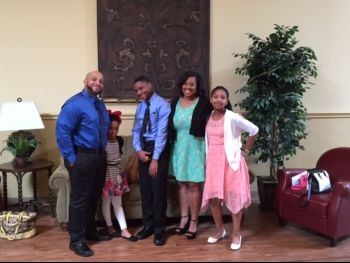 One doesn't need to be around Toya very long to get a sense of her deep-rooted love for her family! She beamed as she said, "When I'm not in the office, 98% of my free time is dedicated to the kids and Byron (see image to the right). We are either rushing off to a sporting event, school event, or church event. the other 2% of the time is when they are all tired of my nagging and kick me out of the house for girl time... or at least I them think they kick me out.
This week, we asked Toya about her time here at Coker, Robb & Cannon, Family Lawyers and what makes her the wonderful person she is. Here's what we learned.
CL: How did you first get involved with the legal industry?
TB: I've wanted to be an attorney since I was 6 years old, so of course, as soon as I could, I dove into the first legal related position offered: the District Clerk's Office.
CL: What might someone be surprised to know about you?
TB: I USED to be a really good singer. In high school and college, I received many awards and scholarships for singing. Now my pipes are just old, stretched, and dusty.
CL: What do you do when you're not working?
TB: Not resting, that's for sure. Almost always, I'm doing something church, school or sports related...and I LOVE it!
CL: What do you like most about your job?
TB: Simple answer is it's never boring and there is always something new to learn. The real answer is, I get to be of assistance to others. In almost all of our cases, we are able to positively impact someone's life during an extremely rough time.
CL: Before working at Coker, Robb & Cannon, Family Lawyers, what was the most unusual or interesting job you've ever had?
TB: When I was 8, we lived next door to a couple that designed headstones. I think I asked them a minimum of 145 questions per day- hey, they had headstones sticking out of the grass in their front yard, what was I to do?? Advertisement such as this was the norm in LA. Anyhow, I think to get me off their backs, they gave me pretty notebooks, cool colored pens and pencils and asked me to help them design headstones. As often as I could, I worked outside, on their porch drawing pictures of ghosts coming out of the ground saying, "RIP" or "Rest In Peace". I was a natural! And of course, I got paid at the end of each work day.
CL: What is your proudest moment with Coker, Robb & Cannon, Family Lawyers?
TB: There are so many! I am EXTREMELY proud anytime someone from our office receives an award or acknowledgement from outside of the office (i.e. Kim's huge award, or KR's or JC's certification, etc.); however the coolest/proudest moment I think I've experienced was seeing hundreds of people wearing the Coker, Robb & Cannon, Family Lawyers logo on the Reindeer Romp shirts- our logo was in every direction! I still see them here and there during the colder months!
CL: What is your hidden talent?
TB: Acting and playwriting! I should really be in a few major movies right now, but I decided to let others have some "shine time" before the big take over!
CL: What is the most important thing you've learned in the last 5 years?
TB: It is extremely important to find a way to connect with people: clients, OCs, opposing LA's, even people that we come in contact with outside of the office. We are all humans, we all have various issues, but in one way or another, we can find a way to connect or relate to one another- even if it's through agreeing on the crazy Texas weather!
In dealing with clients, I've learned that finding a way to connect and show them that you care about what's going on with them makes it easier for the client and the legal team to work together. It also makes the client less likely to yell at you. :)
CL: What is your biggest pet peeve?
TB: People calling me LaToya...kidding. When people sneeze or cough openly around others. Cover your cough or sneeze people!!!