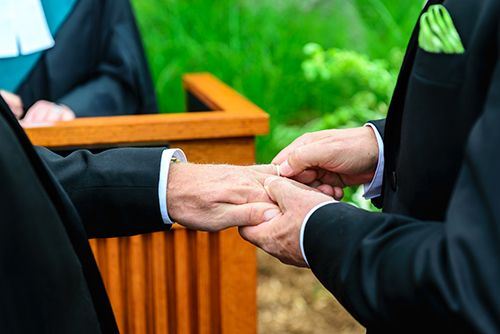 The legal landscape for same-sex marriages in the United States has significantly changed in the last few years. Currently, 36 states including the District of Columbia allow same-sex marriages. Numerous challenges are pending in all but a few of the states with same-sex marriage bans still in place. The rise in challenges on bans against same-sex marriage can be traced back to June 2013 when the U.S. Supreme Court ruled the Defense of Marriage Act (DOMA) was unconstitutional. Since the Supreme Court's ruling in United States v. Windsor, courts have been flooded with challenges to same-sex marriage bans and those challenges are seeing results in very conservative states. In Kentucky, a federal judge recently ruled that the state had to recognize same-sex marriages performed in other states. Federal judges in Utah, Oklahoma and Virginia have also struck down bans on same-sex marriages in those states.
Texas Judge Strikes Down Ban on Same-Sex Marriage
On February 26, 2014, U.S. District Judge Orlando L. Garcia struck down the Texas ban on same-sex marriages. While Judge Garcia's ruling was seen as a significant victory for gay rights in one of the most conservative states in the Nation, the effect of his ruling has had no immediate impact on same-sex marriage in Texas as Judge Garcia issued a stay on his ruling pending an appeal to the 5th Circuit Court of Appeals by the State. While many see the ban on same-sex marriages as just that—banning same-sex marriages—they often overlook the far reaching legal implications that exist when marriage laws differ from state to state. The 5th Circuit Court of Appeals heard oral arguments January 2015 but have not yet ruled. The Supreme Court will hear oral arguments as soon as April 28, 2015 to determine whether a state may refuse to license same-sex marriages or to recognize same-sex marriages from other jurisdictions.
Divorce for Homosexual Couples in Texas
The ban on same-sex marriage in Texas has long placed those who were legally married in other states, but now reside in Texas, in a legal quandary. Because Texas has not recognized same-sex marriages, individuals legally married in a different state but residing in Texas are unable to divorce. Law firms handling these types of separations may be able to address child custody or property issues in a different manner than through a divorce. Unfortunately, as the law stood prior to Garcia's ban (pending appeal), issues such as spousal support and divisions of retirement accounts could not be addressed. And because same-sex partners are not subject to property that was acquired during the relationship as being considered community property, significant financial hardship can be created for the spouse that earns significantly less than the other.
The ban on same-sex marriages also creates hardships for happily-married homosexual couples with regard to guardianship and probate issues. For instance, if two men are married to each other and one dies intestate (without a will) the surviving spouse would not have the same inheritance rights that he would have if he were married to a woman. A spouse in a same-sex marriage would also not have the right to make medical decisions in an emergency and instead those decisions would be made by the family of the individual in the hospital.
The Future of the Judge Garcia's Ruling
No matter which side you fall on the matter of same-sex marriages, it is impossible to turn a blind eye on this quickly-changing legal landscape as our society evolves to deal with these inherent inequities. No one knows how the U.S. Supreme Court will rule on the issue of state bans on same-sex marriage.
If you are in need of a family law attorney to discuss issues regarding your same-sex marriage, please do not hesitate to contact Coker, Robb & Cannon, Family Lawyers today!