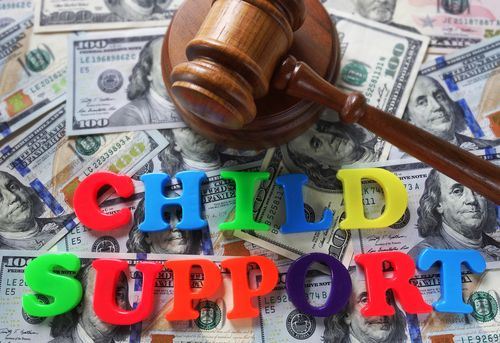 By Duane L. Coker
For Throwback Thursday, I thought it'd be interesting to look at how Child Support guidelines, and specifically limits on the maximum amount of child support generally ordered by the Courts, has changed since I started practicing law in the way, way back.
How Child Support is Calculated
Child support in Texas, in most cases, is calculated as a percentage of the paying parent's income. In the majority of custody cases in Texas, the children live primarily with one parent and have visitation, per a Texas Standard Possession Order, with the other parent. In those cases, the Texas Family Code provides a formula for calculating the amount of child support the parent, who exercises Standard Possession, pays to the other parent.
Texas child support is calculated by multiplying the paying party's Net Resources (the paying parent's net income as calculated using the Texas Attorney General's Tax Chart by a percentage based on the number of children for whom the parent is paying support-20% for one child, 25% for two children, 30% for three children and so on.
Very important to higher wage earners it that the amount of Net Resources subject to the percentage is "capped" per the guidelines. This effectively limits the maximum amount of support a Judge will order in most standard cases regardless of how much money the paying parent actually makes.
How Child Support Caps have Changed Over Time
When I was licensed to practice law, that amount-the amount family lawyers often call the "Cap" amount-was $4,000.00 per month. So, regardless how much money the paying parent earned, the most that the percentages would generally be applied to was $4,000.00, meaning that, for one child, the paying parent would pay $800.00 per month. For two children, that amount would be $1,000.00 per month.
The Cap amount has increased over the years. Coker, Robb & Cannon, Family Lawyers opened its first office in Denton in 1998. At that time, the cap amount had been increased (as of 9/1/1993) to $6,000.00 per month. This increased the maximum support for one child to $1,250.00 per month and for two children to $1,500.00 per month.
Since opening my office, the child support Cap has increased two more times-once in 2007 to $7,500.00 per month and again in 2013, which is our current Cap amount, to $8,550.00 per month.
Under the current amount of $8,550.00 per month, child support for one child is $1,710.00 per month and for two children, it's $2,137.00 per month.
Parents often debate whether the current child support guidelines are "fair" or reflect what it costs to raise a child. And, of course, parents often agree to do something completely different than the "standard" amounts of support. However, as you can see by the chart below, since I was licensed to practice law in 1993, maximum guideline support for one child has more than doubled. Whether that's in line with where it should be or not is a matter for a different post.
Child Support Calculation – Then and Now