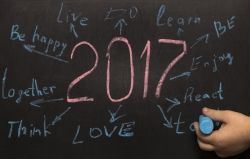 If you're newly divorced or separated, your life has likely been turned upside down. January is a time when many people reflect on the past year and make resolutions or lists of how they plan to change in the upcoming year. At Coker, Robb & Cannon, Family Lawyers, we like to recommend our clients utilize this time of reflection to make a list of things they can change or do to help them through their divorce.
1. Buy and Use a Planner
Many people have big aspirations for their new year's resolutions only to fail a few weeks or a month in because they don't write down a plan or make smart goals for their year. As a newly single parent, juggling your children's, your personal, and your professional schedules can feel overwhelming. Purchasing and consistently using a planner that helps guide you through the process of making and keeping your goals and gives you a space to organize your appointments will change your life. Check out Passion Planner for a planner with the guided tips on how to set your goals. If you prefer a more streamlined planner, check out Action Day planners.
2. Stop Fighting with Your Ex
The best way to move forward during or after your divorce is to resolve to stop fighting with your ex. Everyone loses when you use the court system to fight emotional battles with your ex. We understand what you are going through and our Collin County divorce lawyers suggest contacting a divorce counselor or therapist specializing in helping people cope with their emotional issues after a divorce. Learn more information about how pre- and post-divorce counseling can help learn the tools you need for cooperative communication and co-parenting.
3. Update Your Estate Plan
Updating your estate plan is a crucial step after your divorce is finalized. Likely, you and your ex-spouse may have had each other selected as beneficiaries of your wills, trusts, and insurance benefits. Should you not update your estate plan and unexpectedly die, your estate and other benefits may pass to your ex or someone other than you intend.
4. Meet with a Financial Advisor
Rebuilding your finances after divorce can be stressful and overwhelming. Your future and your children's futures could benefit if you meet with someone who can help you establish a plan for retirement and other savings. A meeting with a financial advisor can help you feel secure moving forward.
5. Review Your Divorce Agreement
Many things can change over time. The new year is a good time to take an objective look at what is and is not working in your divorce agreement. If you and your spouse are making regular exceptions, it may be time to make modifications that reflect your current situation.
If you need help making modifications to your child custody or child support, our Collin County divorce attorney is available to help you. Contact our offices today to schedule a meeting.